Parts of a Meter Mark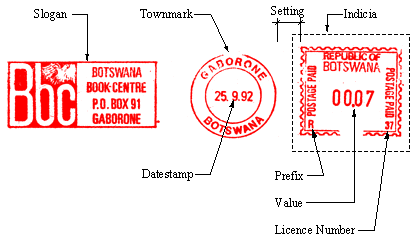 | | |
| --- | --- |
| Meter Machine | The mailing machine to which a meter die is attached. |
| Meter | The device which gives the meter impression |
| Adhesive Tape | Strip of gummed paper on which the meter mark is printed |
| Townmark | The issuing place within a circle, usually a name of the community, and in its' centre the date mark. |
| Date Mark | The date of use of the meter mark, usually found within the centre of the townmark. |
| Indicia | Also called the rate frame or frank. By comparison, it represents the stamp. |
| Setting | The space between the townmark and the indicia. |
| Value | The amount of postage prepaid as shown in the indicia. |
| Single Value (SV) | A meter machine built to imprint one denomination. |
| Multi-Value (MV) | A meter machine built to imprint, usually by operation of a dial or lever, one of a limited number of different denominations. |
| Omni-Value (OV) | A meter machine built to imprint, usually by operation of a keypad, any choice of denominations to a maximum value. |
| Slogan | Sometimes called a 'Post Mark Ad'. An advertisement of the user's product, firm's name, commemoration of an event, or other saying. |
| Licence Number | Number assigned to holder for postage meter use. |
| Prefix | Letter assigned as part of the meter number. In countries other than Botswana, the prefix usually indicates the meter machine make and or model. In Botswana, after an early attempt to assign prefixes, postal authorities seem to have settled on the universal prefix 'R' for all meters fielded in the country. |
| Inscription | The lettering in the indicia and between the circles of the townmark. |
References
Hawkins, Joel and Stambaugh, Rick – Initial Authors. Now many contributors. The International Postage Meter Stamp Catalog – Wikibook. Click this link for the Glossary Section in particular. Click this link for the Botswana Section in particular.
Irwin, Ross W. 1975. Canadian Meter Postage Stamp Catalogue. Second Edition. Brantford, Ontario, Canada: Canadian Wholesale Supply.
Legris, Yvon with help from Jean-Guy Dalpé. 1984. 1984 Canada Meter & Permit Postage Stamps Specialized Catalogue. Montreal, Quebec, Canada: Yan Philaelic.