In approximately the year 2000, BotswanaPost introduced Permit Mail as an alternative to stamps and meter franks for large volume mailers.  This service was first noted in the Bechuanalands and Botswana Society journal, the Runner Post, in August 2001.   Additional information, including a portion of a flyer describing the service, was published in the Runner Post in February 2002.
Permit Mail can not be placed in regular mailboxes.  Mail items must be submitted to BotswanaPost in trays, boxes or bundles.  Payment terms are negotiated prior to or at the time of mailing.  It is only accepted at the Southern Sort Center at Poso House, Gaborone, the Pota Sort Centre in Palapye, and the Tatitown Sort Centre in Francistown.  Permit Mail envelopes may not be used as Business Reply envelopes.
To use this service, organizations apply to BotswanaPost for an "Authority Number" that must be included in the Permit Mail impression.  This number is permanently assigned to the requesting organization until it is cancelled. The issued Authority Numbers of which I am aware range from 10000 to 10039, so I assume that the numbers start at 10000 and that there are at least 39 permit holders.  The Authority Numbers and the name of the organization holding them of which I have examples are provided here.
The Permit Mail impression must be designed according to the following specifications and the impression must be pre-printed in upper right corner of the envelope. The impression may be printed in any colour.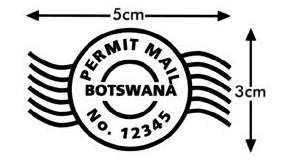 Given that this service has been available since the early 2000's, organizations have made multiple printings of envelopes using their Authority Number.  A listing of the various printings of which I am aware can be found here.
An article summarizing this information appeared in Forerunners, the Journal of the Philatelic Society of Greater Southern Africa, Issue #102, January-April 2022.
I would be delighted to hear from anyone who has additional information.  You can reach me via my contacts page found here.