Much of this information with more illustrations can be found in the article, "Botswana Meter marks: An introduction" that I published in the South African Philatelist in June 2022.
The Introduction of Meter Machines to Botswana
Prior to Independence in 1966, Botswana was known as the Bechuanaland Protectorate.  While other countries in the region, such as South Africa and the Rhodesias were issuing meter licences as early as the 1920's, Botswana remained largely undeveloped until the 1970's, thus influencing the lack of demand for franking licences.
There is no evidence that postal franking machines were used in the Protectorate, although a drawing of a frank die from Universal Postal Frankers Ltd. in London UK in 1957 indicates that their use was under consideration (see copy of drawing). An article by John Inglefield-Watson (1991) states that "It has been reported that in May 1963 the Postmaster of the Protectorate wrote in reply to a query, that were no machines were then in use, but applications for their introduction (makes unknown) were in hand."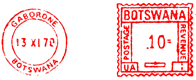 The first meter franking of which I am aware is meter licence no. UA1 issued to Standard Bank of Botswana in Gaborone and dated 13 November 1970. This mark was created by a Universal MV 'Automax' machine from Universal Postal Frankers Ltd. The production of this model of machine is "stated to have ceased in 1960" (Inglefield-Watson, 1991), which in conjunction with the drawing of the frank die noted above would make the earlier use of meter machines in Botswana seem more likely.
Issue dates for the first 30 or so licences in Botswana are unknown. The only file record from the 1970's and 1980's remaining at Botswana Post is the original licence number issue list, which does not contain this information. Also, as company names changed or the licence was handed from the original holder to another, the Post Office made the revisions to the list using opaque correction fluid, obscuring the information underneath. Fortunately, this has affected less than 10% of the records. Some dates have been established from correspondence related to an effort in 1992 by the Botswana Post Office to contact all meter licence holders to determine if they were still using their machines.  In 2002, the Post Office had retained all files related to this effort and records of new and re-issued licenses in the interim.  However, Post Office records that exist do not list issue dates, so it is not possible to identify the implementation of the first meter licences. It is only possible to estimate dates on the basis of earliest seen dates.
From commencement, meter licences were issued nationwide as evidenced through the issuing of the following licences:
licence number 2 to Central District Council in Serowe,
licence number 3 to Botswana Business Machines in Francistown,
licence number 4 to Standard Bank in Maun,
licence number 6 to Botswana Power Corporation in Francistown, and
licence number 7 was issued to Botswana Game Industries in Francistown.
Current usage of postage meters in more remote communities, such as Ghanzi, Tsabong and Hukuntsi tends to be the result of District Council use.
The Number of Meter Licences Issued
By March 1999, a total of 232 licence numbers had been issued.
In 1992, all licence holders were contacted by Botswana Post in order to confirm whether the issued licences were still in use. While a number responded that either they had never purchased a meter machine or that their machine had ceased functioning, no further action was taken by the Post Office.
In 1999, a similar contacting exercise was undertaken. At that time, licences not being used were designated for re-assignment. This resulted in 75 old licence numbers becoming available for re-use. However, research from Post Office files and secondary sources appears to indicate that a few licence numbers changed hands before the Post Office began re-issuing expired numbers in mid-1999.
Including the re-issued number, a total of 327 licences had been granted by August 2002. To see a list of all licences known to date, see the page "List of Botswana Meter Mark Licences Issued".
Meter Machines Used
The Post Office does not charge for the use of a meter licence nor does it sell meter machines. It only re-sets the machine on request by the licence holder. Licence holders must obtain their machine from a private source and a variety of makes have been used. Initial research indicates that machines from the following manufacturer's have been used:
Pitney Bowes,
Roneo,
Neopost,
Roneo Neopost,
Satas,
Ascom,
Hasler,
Ascom Hasler,
Postalia, and
Francotyp Postalia.
It is interesting to note that the machine types indicate the many mergers that have occurred in the meter machine manufacturing industry over the years.
Meter Licence Prefixes
In countries other than Botswana, the meter licence prefix usually indicates the meter machine make and or model. In Botswana, after an early attempt to assign prefixes, postal authorities seem to have settled on the universal prefix 'R' for all meters fielded in the country (Hawkins, unpubl.).
In addition to the 'R' prefix, I have come across 'UA' on licence number 1 for Standard Bank, 'H' on licence number 51 for Jwaneng Mine, 'P' on licence number 91 for First National Bank, 'J' on licence numbers 700 and 713 (which are unusual, non-sequential licence numbers), and 'G' on licence number 148 for the Botswana Medical Aid Society. In addition, the Botswana Medical Aid Society meter mark, dated 10 April 1995 is printed in blue despite all meters in Botswana and elsewhere being typically printed in red. This does not seem to be a provisional issue, as their licence was granted on 11 June 1992.  Marks for licence number 51 for Jwaneng Mine contain an 'H1' within the frame in addition to the 'R' within the indicia.
In April 2004, BotswanaPost suspended issuing licences pending the introduction of meter machines that could be digitally recharged by telephone. The new licences are prefixed 'BP', which I assume stands for BotswanaPost. The first cover that I have seen with this prefix is BP6501 which was used by BotswanaPost itself. 'R' prefixed licences continued to be used into at least September 2008.
The Introduction of Digital Meter Machines
Licence numbers in this new 'BP' series are all 5 digits long, and, as of November 2020, I am aware of :
series starting at 06001 and running into the 06100's,
series starting at 06501 and running to the 06570's,
a few licence numbers beginning 5118#, and
one licence each with numbers 51454, 51805, and 51981.
One meter mark with a 6-digit licence number BP372980 has also been seen.  One recent meter mark, licence number 50121, has the prefix 'BW' and contains a laser readable block or datamatrix (see Figure 9).  This mark, dated 2 August 2016, also has the letters "ABB" in the bottom of the townmark, which does not seem to correlate to the country name or location in which the organization is located.
A complete list of licence numbers of which I am aware can be found here.
John Inglefield-Watson (1991) provides an undated illustration of a frank die for a Pitney Bowes Model 6300 with an indication of a 'PB' prefix (see copy of drawing). While Meter Type 7C1 has the same layout as this illustration, all marks I have encountered are prefixed with an 'R'.
Denominations
At independence, Botswana utilised the South African Rand as its' currency. The Rand is sub-divided into 100 cents and meter marks from this period are denominated in cents. In 1976, Botswana issued its own currency, the Pula which is comprised of 100 Thebe. Since 1976, meter marks have been denominated in Thebe and Pula.
References
Case, John. June, 1971. Meter Stamp Bulletin. Journal of the Meter Stamp Study Group. No. 95 (vol. XI, No. 7). p. 78.
Hawkins, Joel and Stambaugh, Rick – Initial Authors. Now many contributors. The International Postage Meter Stamp Catalog – Wikibook. Click this link for the Botswana Section in particular.
Inglefield-Watson, John. September, 1991. 'Meter Marks' in The Runner Post, the Journal of the Bechuanalands and Botswana Society, Issue 24. p.454.